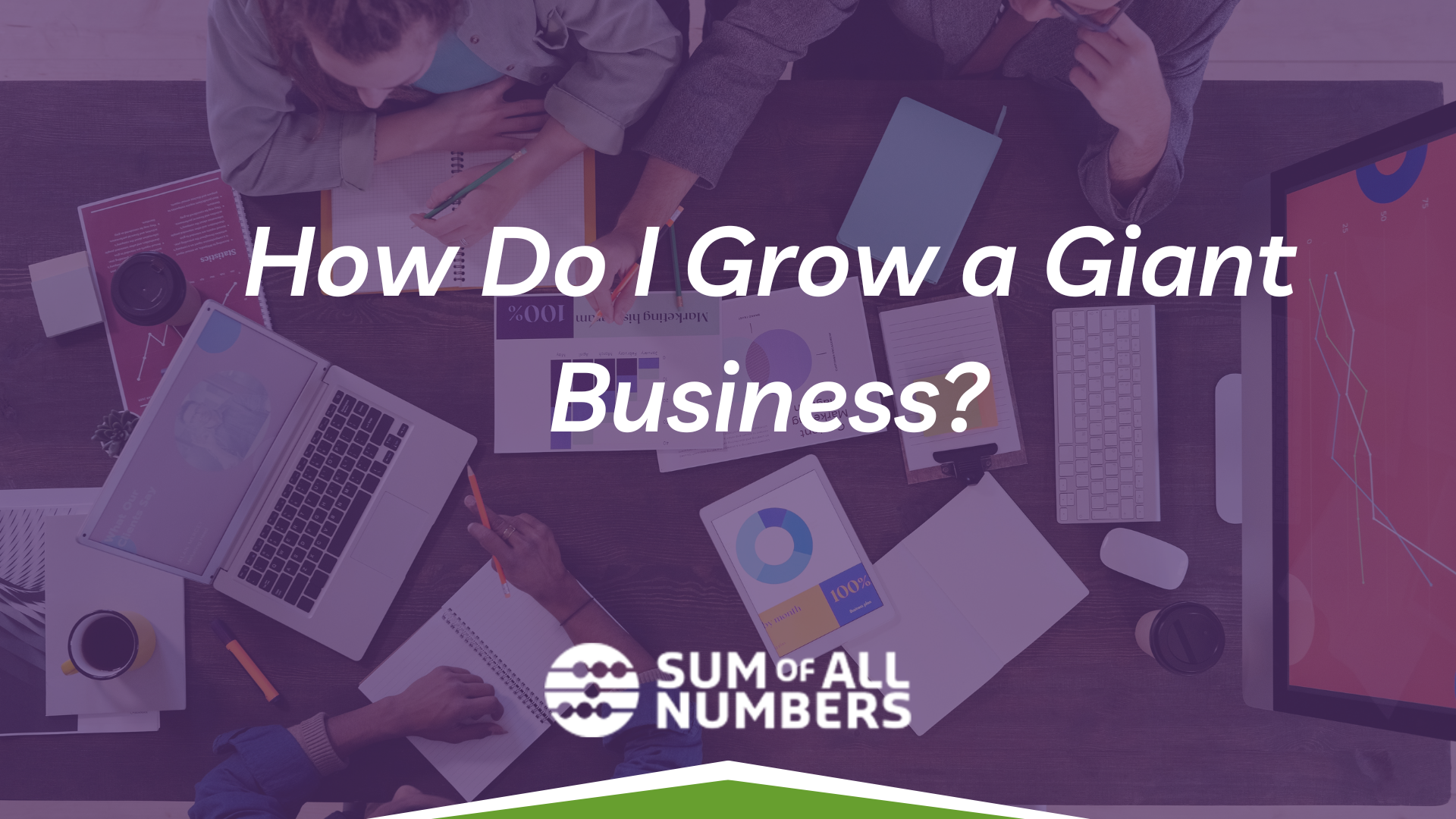 Let's face it. It's hard to scale your business in today's highly competitive market, which the lingering effects of the pandemic further complicate. If you're struggling to achieve your goals, we at Sum of All Numbers offers business consulting and bookkeeping services based on sound business principles backed up with tools and resources such as Profit Firsty. 
Grow a giant business with these 6 easy steps  
When people hear the term "grow your business," they usually associate it with spending more money to add new resources, usually in the form of staff, technology and equipment. However, not many are aware that it's possible to increase revenue (and even profit) without spending more money on necessary resources for growth.
Here, we share the top 6 tips on how to grow a giant business, or to be more specific, to increase your revenue and profit at a rate faster than costs. 
Step 1: HIRE THE RIGHT PEOPLE
Whether you're a small local company or an established brand, you need a talented team of individuals who can help you achieve organizational efficiency and growth. Think of them as the foundation of every business goal you have in mind. 
Step 2: FOCUS ON YOUR BEST-PERFORMING PRODUCTS OR SERVICES
Do you know your most profitable products? If yes, why not focus most of your efforts and resources on them rather than waste time and capital trying to "sell" something that generates very little revenue? 
The reason why you need to work with bookkeeping experts who follow the PROFIT FIRST principles is that they can point out the loopholes in your accounting records. For instance, we, at Sum of All Numbers, can tell you which products generate the best and worst profit margins, allowing you to refocus your efforts and better manage your cash flow.
STEP 3: DO "SMART" DIVERSIFICATION
While focusing on your best-performing products makes sense when you want to scale your business without adding too much resources, you may still want to do some "smart" diversification.
Smart diversification means you don't deviate too much from your best-performing products. For instance, a bakeshop known for its mouth-watering cupcakes may provide a crash course on how to make them. In short, offer something that perfectly complements your established sources of revenue. 
Note that the best way to diversify your offer lineup depends on your best-performing products and the nature of your business. 
Step 4: FOCUS ON YOUR EXISTING CLIENTS
Did you know that acquiring a new client is five times more expensive than retaining your existing customers? In short, you can grow your business without resorting to over-aggressive marketing geared towards new clients.
But how do you focus on your existing clients, or to be exact, how do you keep them happy? To give you an idea, read some common strategies to nurture client relationships: 
Provide excellent customer experience (e.g., user-friendly website and responsive staff)

Follow-up and get feedback

Provide quality services/products consistently
Pro tip: You can maximize your established revenue sources, aka your existing clients, by offering customer loyalty programs and other marketing strategies based on their purchase history and behavior. 
Step 5: IDENTIFY NEW OPPORTUNITIES
To adapt to the ever-changing business landscape and consumer sentiments, you need to identify new opportunities. You can do this by looking at your competitors, the distribution channels and business partnerships you can tap, and the demographics of your target audience. 
Step 6: PLAN AHEAD
Again, the business landscape has never been static; the market trends and customer sentiments constantly change, while new technologies make some products and services obsolete. 
When we anticipate changes, we allow ourselves to plan ahead of time and make preparations to take advantage of any new opportunities and avoid or mitigate potential problems in the future. 
Planning ahead can be as simple as reviewing your contracts, learning more about your customers' demographics, and comparing rates with your suppliers and B2B partners to see if you can negotiate a better deal. 
Final word on growing a "giant" business
You'll notice that the tips we just shared can help you scale your business and increase your revenue at a rate faster than cost, meaning you don't need a substantial amount of resources.
To learn more about growing a "giant" business and keeping its growth sustainable, we at Sum of All Numbers can teach you proven strategies and help you maintain a clean bookkeeping record.