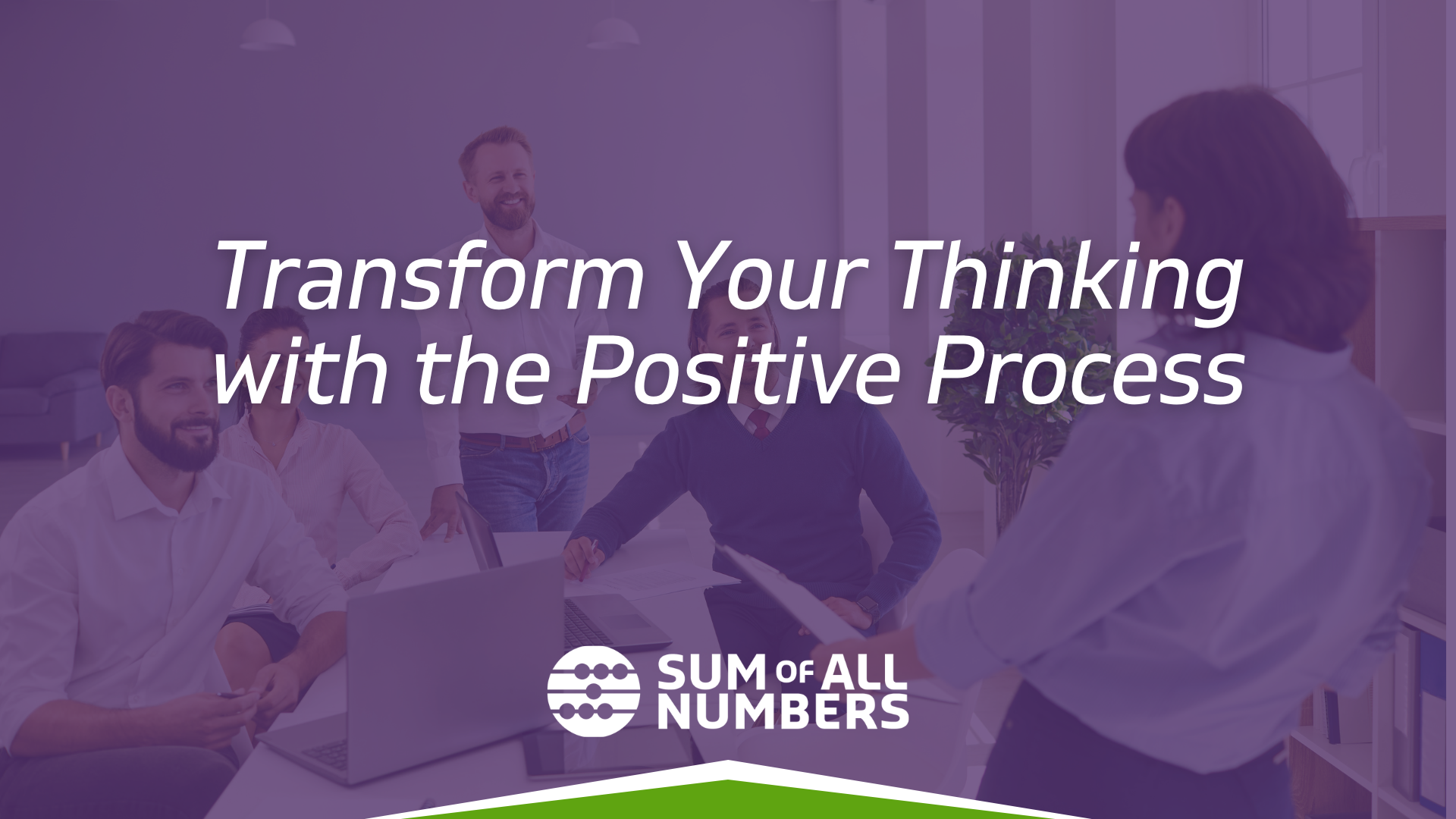 In the face of a recession, it's normal for business owners to feel overwhelmed and have negative thoughts. However, the Positive Process, created by Mike Michalowicz, offers a straightforward approach to transforming these negative thoughts into positive possibilities.
As part of the "Rallying During the Recession" series, this blog aims to offer helpful advice to business owners in weathering an economic crisis. For more tips on how to make your business recession-proof, be sure to visit our Learning Center.
Part I: The Five Stages To Navigating the Recession
Part II: Recession-Proof Your Business with the Rapid Growth Analysis
Part III: Understanding the EVOLVE Communication Method 
Part IV: Transform Your Thinking with the Positive Process
Part V: How Short-Term Planning Helps Your Business During a Recession
Part VI: Three Plans You Need to Do to Recession-Proof Your Business
Part VII: How to Uncover Potential with the One-Step Back Method
Part VIII: The Path to Success: Mastering the Business Hierarchy of Needs
Part IX: The Recession Response Plan: Strategies for Managing Cash Flow, Debt, and More
Part X: Crisis Strategy for a Healthy Business: Must-Read Books for Success
What is the Positive Process?
The Positive Process is a mental exercise designed to help reframe negative thoughts into positive potentials. With this framework, you can stay focused on opportunities, minimize potential consequences, and take small, concrete actions toward success.
The thing with negative thoughts is that they can trigger a downward spiral of inaction or inaction. Positive thoughts, on the other hand, can be a seedling for momentum. Given the economic conditions, nurturing positive thoughts could be the key to saving your business–so you've got to master the mental aspect of it all.
Using this worksheet, let's go through the Positive Process:
Step 1: Negative Situation & Consequences
The first step of the Positive Process is to break down your thoughts. Start by jotting down the situation or thought that's bothering you and the potential consequences you're worried about.
For example, you might think, "My business is in a slump, and I'm afraid I'll lose money and even my house."
Step 2: Opportunities in This Situation
Step two involves identifying the opportunities in your current situation. The idea is to push yourself to think positive thoughts.
When you're feeling down, it's natural for your mind to shut down, so you need to make an effort to think of opportunities. According to Michalowicz, these opportunities can even be hypothetical. But it could also be as simple as, "With my competition fading out, I can capitalize on the chance to acquire their clients."
Step 3: Ways To Reduce Consequences
The next step is to come up with ways to reduce the potential consequences. Michalowicz explains that when we are in a negative train of thought, we tend to overestimate the severity of the situation (e.g., "my business is down – I'm definitely going to lose my home and my car").
So this step is where you add realism to your thoughts and seek how to address them (maybe instead of 100%, it's only 10%). For example, try to think of ideas for acquiring new clients, negotiating costs, or gathering feedback from your existing clients to understand how you can serve them better.
Step 4: Ways To Maximize the Opportunities
In step four, you put your focus on maximizing your opportunities. This is where you start turning your fantasies into reality by taking small, practical steps toward change.
For instance, you can explore ways to market without cost, consider new offerings or learn to improve your existing ones or reach out to potential customers.
Step 5: Steps To Increase Opportunities & Small Steps to Decrease Consequences
Finally, the last step is to write down the small actions you can take immediately.
Positive thoughts are a good start, but they don't mean much if you don't follow through with action. With that, it's time to break down your ideas into bite-sized steps and start building momentum for success.
Using the Positive Process in Recession-Proofing Your Business
It's natural to feel overwhelmed and negative during times of uncertainty, but with the Positive Process, you can turn those thoughts around and make them into positive potentials.
Don't let the next wave of fear affect you. Instead, embrace the Positive Process and take control of your future.
Scaling your business in today's cut-throat market is tough, and the looming threat of a recession only adds to the challenge. At Sum of All Numbers, we offer consulting based on sound business principles backed by helpful tools and resources. Get in touch with us or call +1 (888) 564-5777.